Dr Fog 10ml E-liquid
Dr Fog M Series from Premium Labs of Canada 10ml Bottles
Premium Labs of Canada have won more awards for their juice than any other company on this planet.
They have been my favourite juice brand since discovering them several years ago.
No other juice comes close and Sammy Fog is the absolute master at complex desserts.  
M Series

Alpha 2.0
Refreshing blast of watermelon in a tropical sherbet with menthol
Bravo
Sweet grapes with a twist of menthol freshness.
Charlie
A refreshing taste of grapefruit and strawberry with menthol
Delta
Cool and refreshing breath with spearmint and bubblegum taste with menthol
Echo
Blocks of rich and creamy white chocolate mixed with chunks of the candy cane, a perfect winter treat
Foxtrot
A rich, slightly sweet blackcurrant complemented by a blast of cool mint
Menthol

Menthol Regular
The common and the perfect balance of menthol, mint and soothing exhales
Mixed Mint Extreme
The absolutely most chilling menthol available. Flavourful mint and menthol across the spectrum.
Menthol Cool Ice
Designed to cool any flame. Sweet menthol with cool ice exhales which reliefs the nasal and calms the senses
Menthol Light
Menthol subdued. For those interested in a lighter menthol.
Decoded Series
Big Foot with Ice Cream
The delicious taste of carnival-style mini doughnuts served with a huge scoop of vanilla bean ice cream.
Atlantis
A pineapple flavour comes through on inhale with sweet and slightly tart notes.
On exhale, a combination of guava and blueberry adds a juicy taste and a sharp finish.
Big Foot
A distinct mini doughnut flavour hits you inhale and exhale.
Layers of buttery taste mingle with pastry and a sprinkling of brown sugar.
DaVinci Code
A complex creme brulee flavour acts as a base, with creamy and vanilla notes.
A fusion of butter and pecan on exhale creates a sweet finish.
Loch Ness
A peach flavour on inhale has authentic tasting juicy and sweet notes, complemented on exhale
by a combination of yoghurt and cream for a silky finish.
Area 51
Area 51 from Decoded is a definitive citrus fruit vape, consisting of Mangoes, Lychees, and Papaya.
RongoRongo
 A refreshing blend of a tart strawberry citrus, infused with crisp cucumbers.
Can you decipher this flavour?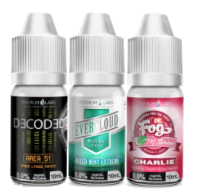 Dr Fog E-Liquid 10ml – £1.49