Elf Bar FB1000 Pod Kit
The Elf Bar FB1000 Pod Vape Kit is the first-ever rechargeable and refillable Elf Bar. Designed to be both simple and discreet, this pocket-sized pod is ideal for all levels of vapers. Powered by a built-in 1000mAh battery, you'll experience up to a whole day of vaping on one charge and recharging is very quick, too. Not just for beginners, the small amount of vapour the kit produces means it delivers an MTL (Mouth To Lung) vape that's ideal if you're looking for something that feels closer to a cigarette.
With the refillable Elf Bar FB1000 Pod, you can choose different types of e-liquids that you prefer, if you just want to have a balanced vaping experience like smoking, 50/50 vape juice is a great option. Or if you want to pursue more clouds that come out from your lung and mouth, high VG e-juice is what you need. The coil is also replaceable, Elf Bar FB1000 Replacement Coils help you get a long-long lifespan for the device.
Aside from plenty of e-liquid flavour choices, this kit is also easy to use thanks to single button activation and inhale activation which means you can start vaping at the push of a button or simply inhale to vape. Each refillable Elf pod features a magnetic connection that means while it stays securely in place when you're vaping, it's also easy to take out for refills and coil changes. Each pod can hold up to 2ml of e-liquid and can be refilled from the bottom. The pod also uses the removable Elf EBC mesh coils as well as utilized the VooPoo PNP Coils, to provide a greater variety and vaping style. The FB1000 Device requires the use of 0.6ohm or higher coils, any lower the device may not work or work poorly.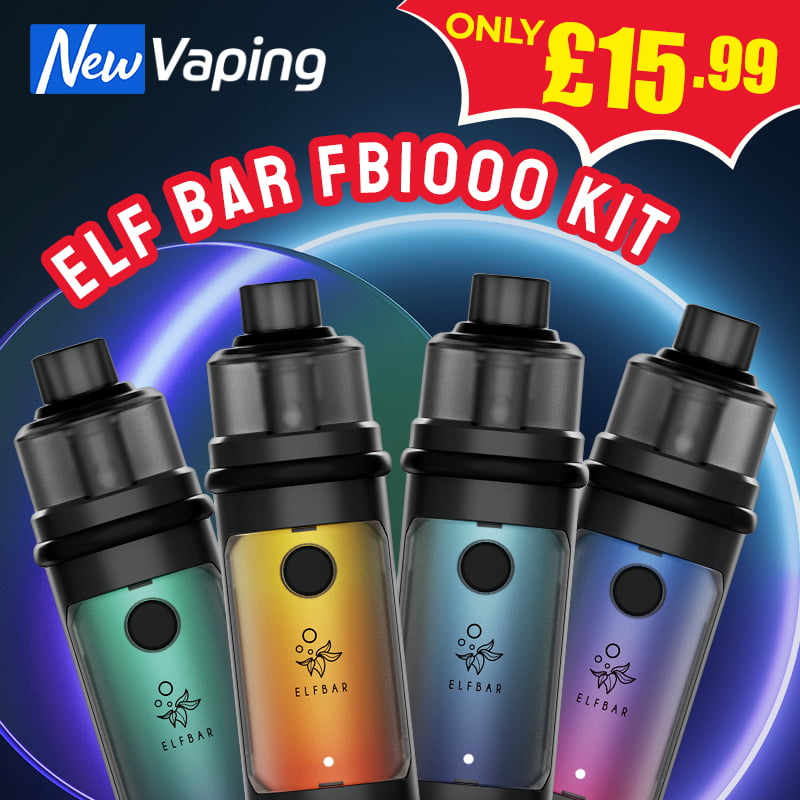 Elf Bar FB1000 Pod Kit – £17.99