Geek Bar Pro Disposable
GEEK BAR Pro has been upgraded based on the first generation of GEEK BAR disposable.  GEEK BAR Pro is a high-quality disposable vape that can bring more puffs and a more pure flavour.
It has the most realistic preference and lasting taste performance, making it superior to other disposable electronic cigarettes.  You will be surprised by the purer and smoother taste.  GEEK BAR Pro adopts a crystal-clear hexagon shape design with the use-fit mouthpiece, very suitable for carrying, handheld, and vaping.  850mAh high voltage built-in battery (larger battery capacity than ordinary batteries) provides vaping power support.  Powerful bar powers up your day.  Geek Bar Pro is going tobacco-free with synthetic nicotine! Taste exactly the same, but GEEKBAR Pro improves the products by using new ingredients derived from various plants rather than tobacco.  With a constant output system and smooth airflow channels, GEEK BAR Pro provides consistent fresh flavour and deep satisfaction.
Flavours
Guava Ice
Mixed Berries
Orange Soda
Lush Ice
Icy Cola
Strawberry Banana
Peach Ice
Aloe Mango Melon Ice
Features:
• 850mAh High Voltage Battery
• Up To 1500 Puffs
• 1500 ≈ 125 puffs * cigarettes
• Pre-filled 4.5ml E-liquid
• Translucid Hexagon Lamp
• Premium Organic Cotton
• 3.6V Constant Voltage Output
• Upgraded Mouthpiece
Specification:
Size:24.7mm x 22.6mm x 109.0mmBattery: 850mAh Built-in Battery
E-liquid Capacity:4.5ml Pre-filled Juice
Puffs:~ 1500 Puffs
Output:3.6V Constant Voltage Output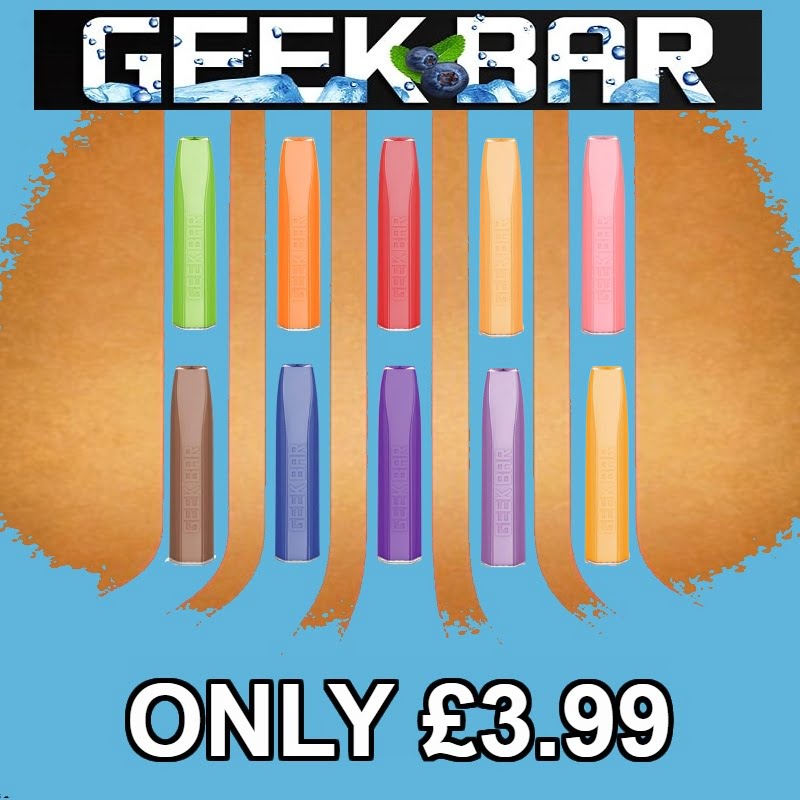 Geek Bar Pro Disposable – £3.99