IVG Beyond Range E-liquid 100ml
Beyond e-Liquid Range are made by IVG to go beyond your expectations, these E-liquids will blow your mind! Beyond come in six amazing flavours that will have your tongue twisting for time to come. Fill up either those pods or tanks and get creative with pure fruit flavour.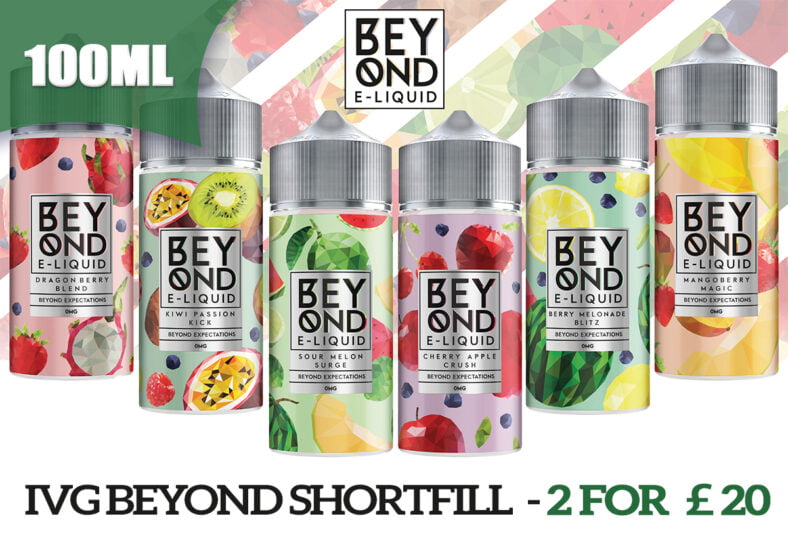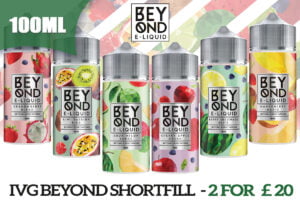 IVG Beyond Mangoberry Magic Shortfill 100ml
For this magic trick we have blended mango with sweet strawberries, then cooled the mixture off with refreshing honeydew melon leaving you asking how did they do it!
IVG Beyond Berry Melonade Blitz Shortfill 100ml
Venture into the great beyond with this fusion of sweet blackcurrants and mouth-watering watermelons, delivered with a tang of freshly squeezed lemons.
IVG Beyond Cherry Apple Crush Shortfill 100ml
This flavour delivers a crushing blow of both red and green apples, finished off with a sweet blackcurrant vest and a cherry kick that will have you coming back for more!
IVG Beyond Sour Melon Surge Shortfill 100ml
A combination of honeydew and ripe watermelon with a surge of sour lime to kick this flavour into the beyond!
IVG Beyond Kiwi Passion Kick Shortfill 100ml
Get your summer sun kick with this kiwi and passion fruit combination, merged together with berries so fresh it's as if you picked them yourself!
IVG Beyond Dragonberry Blend Shortfill 100ml
Experience the breath of a dragon with this powerful blend of sweet dragonberries, succulent strawberries blended together with a finish of fresh blackcurrants! A flavour of legend.

IVG Beyond Range E-liquid 2x 100ml – £20.00