Joyetech eGo AIO Kit
Joyetech eGo AIO Kit features "All-in-One" design which turns out it adopts a build-in battery with cylindrical shape and light weight. With childproof and leak-resistance cup design, has 2ml e-juice tank and 1500amh capacity. There are sereval colours to choose for your personal style.
Parameters
Atomizer Capacity: 2ml
Battery Capacity: 1500mah
Color: Black&Grey, Red&White, Black&White, Black, Silver
Size: 118.05mm(L)*19mm(D)
Joyetech eGo AIO Kit comes with
1× Joyetech eGo AIO
1× BF SS316-0.6ohm coil
1× eGo AIO mouthpiece
1× USB Cable
1× Quick Start & Warranty Card
Simple packing. Customary Packing from the factory, the packing is subject to change without notice.

1.All-In-ONE Style
eGo AIO applies all-in-one style with atomiser inserted inside, which is quite convenient to use.
Though petite but it is powerful enough to produce large vapor.
2.Child Lock to Ensure Security
The atomizer cap is equipped with child lock so that one should press the cap to screw or unscrew the atomizer cap.
3.Spiral Structure Mouthpiece
The inserted spiral structure mouthpiece is more beneficial for mouth inhale and is more secure.
4. Fashionable Appearance and color block
eGo AIO has mixed color block in streamed lines, which is very fashionable in looking and caters to your personal preference.
5.Choose Your Color
In power-off condition, long press the fire button to turn off the indicate light or shift among the color of red, yellow, green, blue, indigo, white or purple.
6. E-juice filling
Press the cap to unscrew the atomizer cap, then inject the liquid directly into the cambered slot.
NOTE: 1.In order to avoid overflow when reassemble please don't overfill. which you can refer to the follow picture
2. Please drip a few drops of e-juice to the atomizer head before its first use to avoid dry burn.
7. Adjustment of Air Inflow
Rotating the ring on the atomizer cap clockwise or counterclockwise to adjust the air inflow. The air inflow will be the largest when both signs match with each other. Rotate it 90 degrees to the left or right will reach to the minimum air inflow.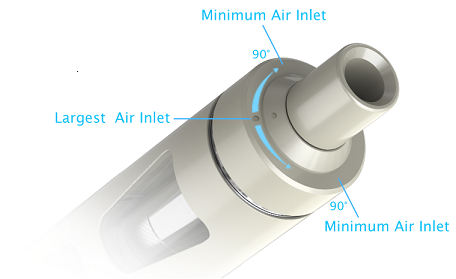 Joyetech eGo AIO Kit – £11.60