MyJET Express Pack
MyJET Express Pack (with open unfilled e-juice pods)
Brand: Myjet
Unit: set
Net Weight: 250(g)
Combined shipping cost will be calculated automatically by the system after you choose shipping destination in the checkout step. Register and sign in your account to get bulk discounts!

Product introduction
The MyJET Express Pack (with open unfilled e-juice pods) is a new flat device that is simple to use and effective. It is a semi-closed pod vaping device. A 350mAh built-in battery powers a cartridge-inspired juice reservoir and a coil with a resistance of approximately 1.2Ω. Further, the wick is not silica as was used in the first generation of devices, but cotton for a better flavor and no nasty dry hits. With novel design and ergonomic style, it will be more fashionable and popular.
Parameters
Dimensions: 11.5 x 1.5 x 0.7 centimeters
E-Liquid Capacity: 1.2 ml
Battery Capacity: 350mAh
Estimated Output: 20 watts
Estimated Run Time: Four to six hours of continuous vaping
Material: Aluminum alloy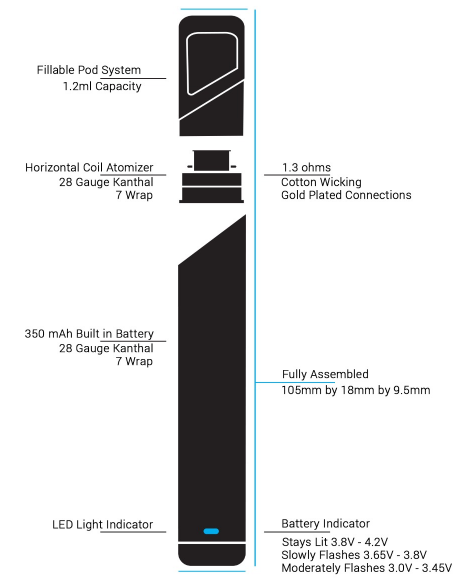 MyJET Express Pack (with open unfilled e-juice pods) comes with
1 x MyJet Battery
2 x unfilled e-juice pods
2 x e-juice atomizers
1 x USB magnetic cable
1 x User Manuel

Features
Refillable Pods
The Atomizer for the pods uses a special organic cotton that is enclosed in a tightly-coiled 28 gauge that provide an immense output of vapor and a perfect delivery of nicotine flavor.
Slim and Chic
The myJET is a small compact device,but is packed with a strong 350mAh battery that will last up to 4-6 hours.
Durable Materials
The myJET is made out of anodized alluminum. Made to be scratch resistent.
Magnetic Charging
Made with a sacure connection and sturdier way of charging.
No Buttons
Using the device is very simple-all you have to do is inhale the vapor production.No buttons are needed to fire the device at all.The myJET protects the user for common vaping issues that are unbated in traditonal vaping devices and similar devices.

MyJET Express Pack – £8.70