SMOK TFV12 PRINCE Coil For Stick Prince
Replacement coils for SMOK TFV12 PRINCE Tank, newest & carefully modulated coils: the Prince Q4, X6, T10 and M4, all of which have huge cloud and extremely dense flavor.
Parameters
V12 Prince-Q4 0.4ohm Quadruple Coils (40-100W/BEST 60-80W)
V12 Prince-X6 0.15ohm Sextuple Coils (50-120W/BEST 80-100W)
V12 Prince-T10 0.12ohm Decuple Coils (60-120W/BEST 80-110W)
V12 Prince-M4 0.17ohm Quadruple Coils (30-70W/BEST 45-55W)
V12 Prince-X2 0.4ohm Clapton Coils (60-140W/BEST 90-100W) NEW!
TFV12 Prince Mesh Coils NEW!
TFV12 Prince Strip Coils NEW!
SMOK TFV12 PRINCE Replacement Coil comes with
3pcs/pack SMOK TFV12 PRINCE Replacement Coil
Features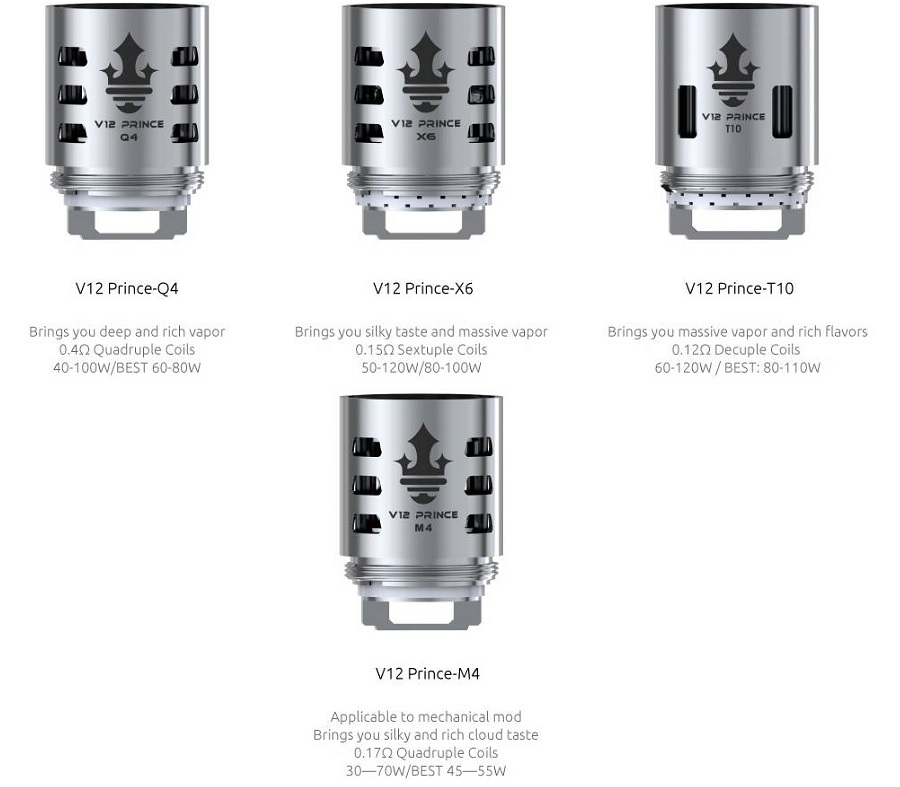 3 Months for Battery/ Mod. Atomizer & Accessories are DOA (Dead On Arrival), please contact us within 72 hours of delivery.

SMOK TFV12 PRINCE Coil For Stick Prince – £7.85