ThunderHead Creations Artemis 2 RDTA 5.5ml 25mm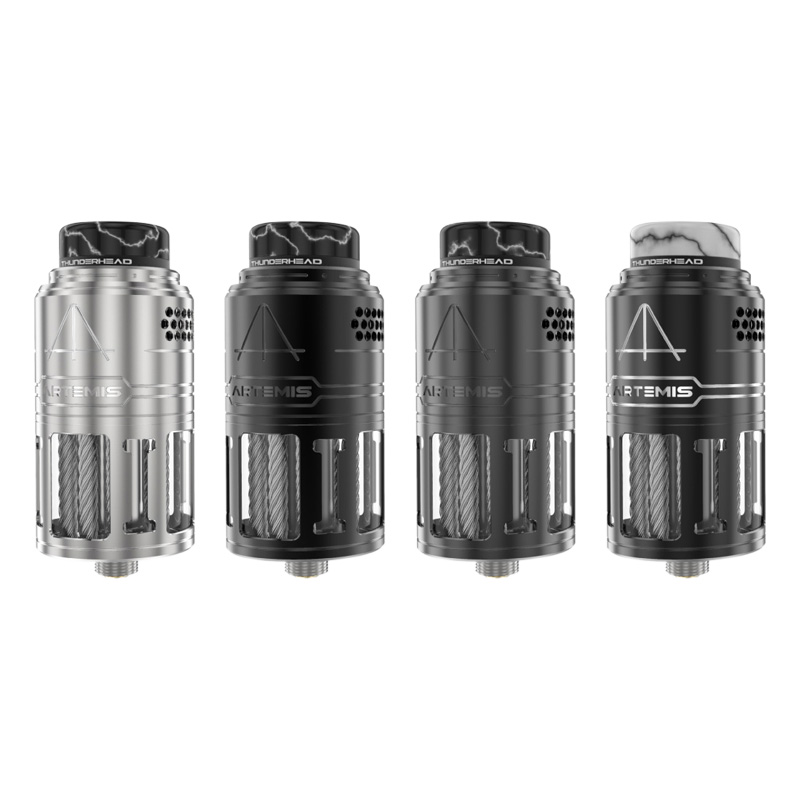 ThunderHead Creations Artemis 2 RDTA measures 25mm by 51mm accompanied with an 810 drip tip. Compared to the old edition, it has a whole new upgrade in what it does, including larger e-juice capacity and diameter, more airflow holes and stainless steel German-made rods, dual coil option. It can hold 5.5ml e-juice, and has a diameter of 25mm, featuring a protruding 510 pin has is also squonk ready.
It modifies adjustable side airflow that boasts 38pcs angled down honeycomb air holes to get out a few thick clouds. The 6-Germany SS316-wicking wire targets at carrying e-juice up into the deck. It is convenient to fill your e-juice via side fill port design, and thanks to the transparent glass, which holds your e-juice and has no leak, and is protected by a cage glass shield.
Featuring a post less deck for dual coil, the patented single screw clamp system fixes your coil fairly easily. The full range honeycomb airflow inlet coupled with the coil can produce heaps of clouds and a sought-after flavour.
Features
• 810 Drip Tip
• 5.5ml E-juice
• Diameter Of 25mm
• 510 Pin
• 38pcs Angled Down Honeycomb Airholes
• Few Thick Clouds
• 6-Germany SS316-wicking Wire
• Side Fill Port Design
• Cage Glass Shield
• Postless Deck
• Dual Coil Option
• Patented Single Screw Clamp System
Package List
1 x ThunderHead Creations Artemis 2 RDTA
1 x Spare Glass
1 x Spare Screw
1 x Spare Wicking Wire
1 x Hexagon Screwdriver
1 x BF Pin
1 x Coil Leg Trim Tool
1 x Spare Ceramic Insert
2 x Spare Springs
2 x 4 Core Fused Clapton Coil
Spare O-rings
1 x User Manual
1 x QC Card

ThunderHead Creations Artemis 2 RDTA – £23.55