Vandy Vape Pyro V4 RDTA 25.5mm 5ml
The Vandy Vape PYRO has always been a line of trendsetting tanks with unique designs. The latest iteration, the V4, does not disappoint in this regard. Utilizing a newly designed post-less build deck that is bowl-shaped with full airflow coverage towards the coils, provides unmatched flavor and vapor production.
Constructed from durable Stainless Steel, the PYRO V4 RDTA is a great tank for on-the-go vaping. The PYRO V4 RDTA features a large 5mL e-liquid capacity that is filled from the side (beneath the top cap) and is compatible with both Squonk / BF Mods, as well as standard regulated mods.
Features
• New Air Path Design
• Intense Vapor
• Unforgettable Aftertaste
• Feeling Of Comfort And Indulgence
• 5ml Vape Juice Capacity
• Side Slot
• Top Air Intake
• Anti-leakage
• 510 Thread

Vandy Vape Pyro V4 RDTA PACKAGE LIST
1 * Vandy Vape PYRO V4 RDTA
2 * Triple Fused Clapton Coil 0.41ohm
1 * Accessory Bag
1 * Instruction Manual
1 * Coil Lead Guide
1 * Pyrex Glass Tube
1 * Gold-plated 510 Pin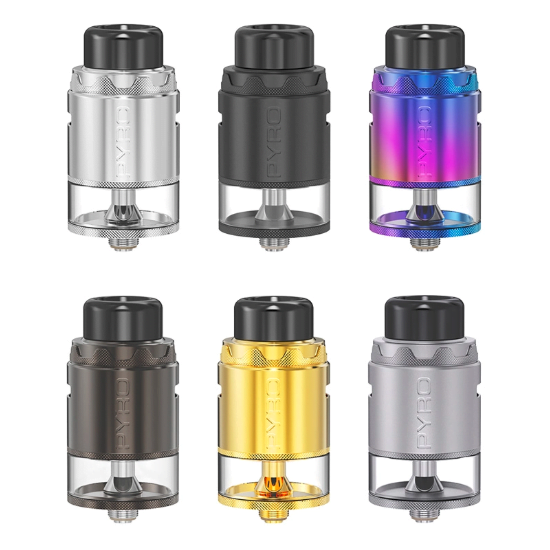 Vandy Vape Pyro V4 RDTA – £16.81