*Main Features:*
High drain 18650 rechargeable Li-ion battery.
Cycle Time: More than 800 times.
Capacity: 2500mAh.
Constant Discharging Current: 20A.
Quick Charge: Down to 1.5h by using Golisi chargers.
High performance: The CDC keeps at 25A even only 40% of power left.
Safety: The embedded protection mechanism enables G25 to cease working when
"+ -" electrodes short circuited. no worries of flame or leaking.
Certificates: CE, ROHS, FCC, MSDS, WEEE, UN38.3, IEC62133 drop test, sea /
air shipping safety report.
Applications: Suitable for vaping devices, flash lights, toys, cameras,
portable DVDs, walkie-talkie, battery pack for e-bikes, PC, drones, power
bank.
*Specifications:*
Type: IMR 18650 Flat
Size: 65 x 18mm(H x D)
Nominal Voltage: 3.7V
Discharging Cut-off Voltage: 2.75V
Charging Cut-Off Voltage: 4.2V
Internal Resistance: 30m Ohm
Capacity: 2500mAh
Constant Discharging Current: 20A
Operation Temperature: Charging (0-45 Celsius)/Discharging(-20-60 Celsius)
*Warm Prompt:*
Do not contact fire or water.
Do not use it out of operating temperature.
Children should not use this product without a parent or adult supervision.
*Package Contents:*
2 x GOLISI G25 18650 Battery
1 x Plastic Storage Case
1 x Paper Box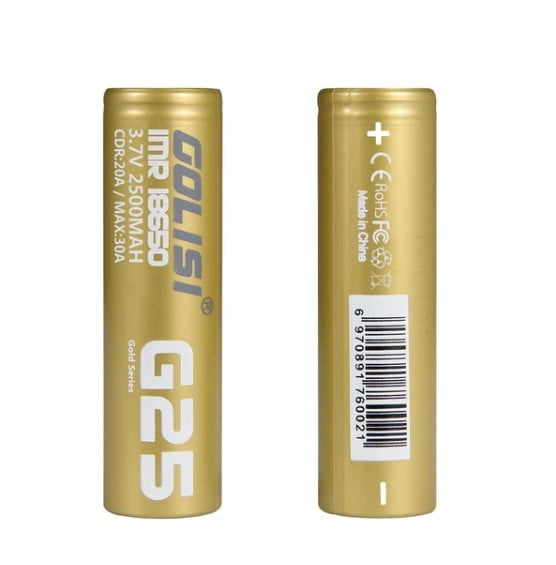 Golisi G25 2x 18650 – £7.99