One E-Liquids 3x 50ml Short Fills
BlackJack 50ml Short fill
This rich blend of liquorice and aniseed with a hint of forest berries
Blue Raspberry 50ml E-Liquid
This sweet candied blue raspberries will bring back them child hood memories
Cherry Cola 50ml E-Liquid
Sweet and sour fizzy cherry cola pop blended together to give that all day vape
Blue Cool 50ml E-Liquid
This tempting blend of mixed forest berries and a hint of aniseed with a cool menthol kick
Cool Red Berry 50ml E-Liquid
Blend of cherries & aniseed with a cool menthol kick
Ice Menthol 50ml E-Liquid
refreshingly minty, cool minty taste with a hint of ice to give you that throat hit
Ice Berries 50ml E-Liquid
Forest fresh berries picked and squashed with lumps of ice giving you the ultimate blast.
Key Lime Cookies 50ml E-Liquid
Tempting blend of freshly baked cookies with a hint of zesty key lime curd.
Kiwi & Berries 50ml E-Liquid
Tantalising blend of sharp kiwi with a blast of sweet mixed berries.
Mango and Passionfruit 50ml E-Liquid
This totally tropical blend of exotic mango and tangy passionfruit with give you that paradise feel.
Orchard Fruits 50ml E-Liquid
rich blend of crisp apples, juicy pears and tangy raspberries.
Pink Lemonade 50ml E-Liquid
Sweet and sour flavours of traditional pink lemonade summer drink.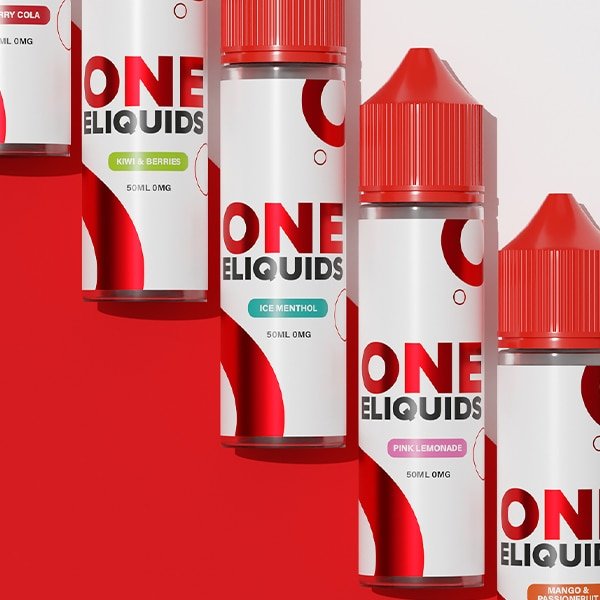 One Eliquids 3x 50ml Short Fills – £11.00