Smok Nord pod kit has 1100 mAh battery capacity, it's compact and pocket able and feels good in hand, it has a convenient filling system and can produce good vapour.It has 3 mL eliquid capacity.But it's difficult to monitor the juice levels and it will fire in pocket if not turned off.
Main Features:
Powerful Battery with LED Indicator: Powered by 1100mAh internal battery with a range of 10 – 15W, you will have plenty of vaping time. The LED indicator shows the battery status.
Two Coil Option: The Nord Kit comes with two coils. The 1.4ohm Ceramic coil for MTL vaping used with nic salt provides the stronger throat hit; the 0.6ohm mesh coil is designed for sub-ohm and dense cloud vaping.
Refillable Pod System: 2ml pod capacity with side-filling port, the pod is easy to refill without leakage. The restricted airflow design removes the need for manual adjustments. The ergonomic mouthpiece with a magnetized connection is designed for easy installation of replacement SMOK NORD pods.
Portable and Stylish Design: Featuring the perfect size to hold, this super pocket-friendly kit is ideal to take on the go. Operated by a single firing button, you just need five clicks to switch it on or off and long press to vape. The cobra style finish with different colors offers an exquisite and wild look.
Specification:
2ml Juice Capacity
8 Seconds Cut-Off Protection
Short-Circuit Protection
Low Voltage Warning
Micro USB Port
Dimensions: 94mm x 30mm x 18.8mm
Weight: 80g
Wattage Output: 10W-15W
Battery Capacity: 1100mAh
Recommended VG/PG Ratio: 70/30 VG/PG
Package Content:
1 x SMOK Nord Device
1 x 0.6ohm Mesh coil
1 x 1.4ohm Regular Coil
1 x Micro-USB cable
1 x User Manual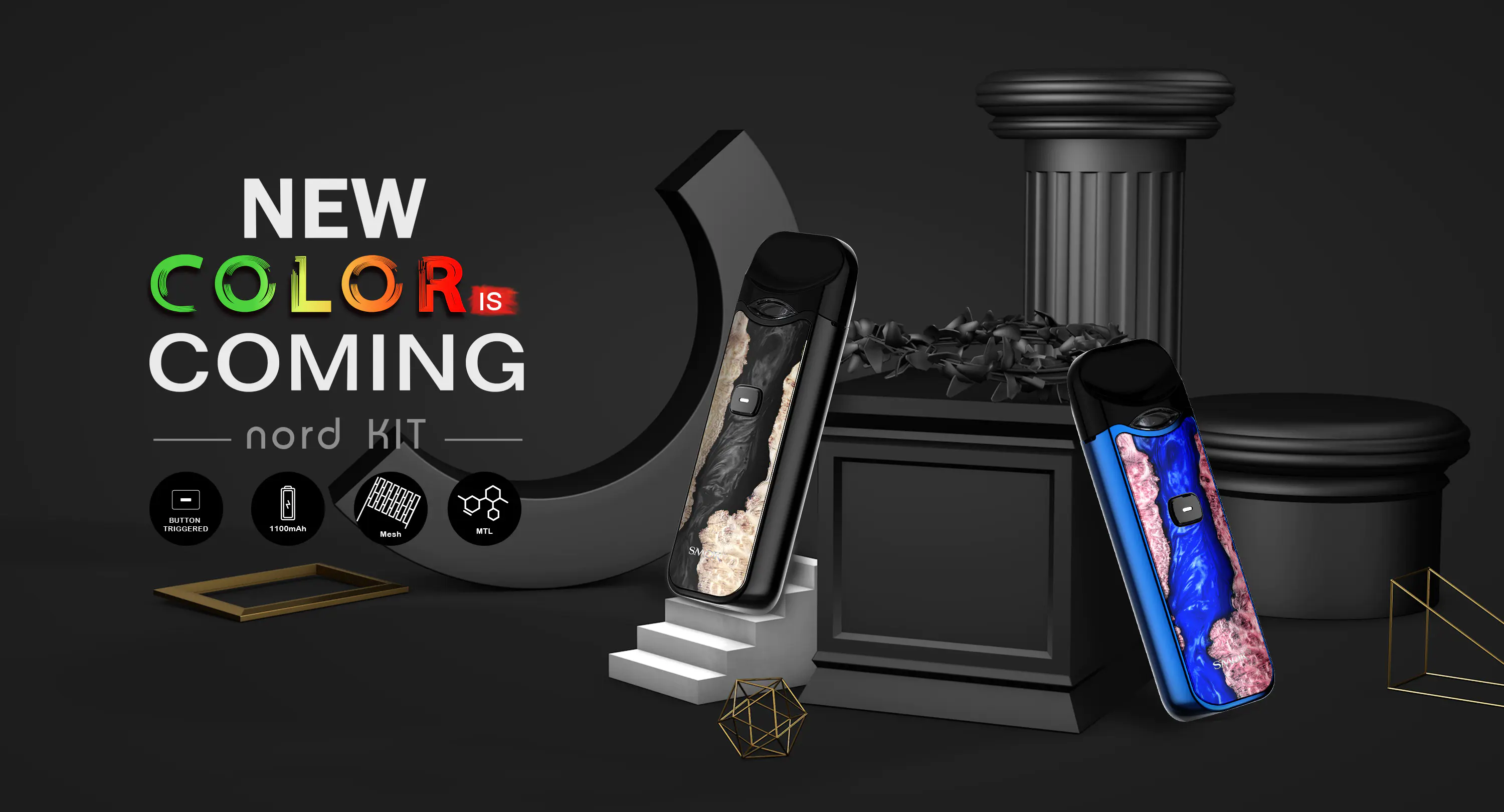 Nord is a newly-designed button-triggered pod system device. It has 1100mAh battery capacity, extremely large among pod
system devices, making it a definitely powerful one! It is equipped with two exclusive coils, Nord Mesh 0.6Ω coil and Nord regular
1.4Ω coil, one is perfect to get massive vapor; the other can offer excellent MTL experience. It also has a perfect size for you to
hold in hand, a newly added button to start vaping and provide information about battery life, besides, there's an e-liquid window
on the pod, all of which are for your convenience! Innovation keeps changing the vaping experience!
TOTAL 38 COLOURS AVAILABLE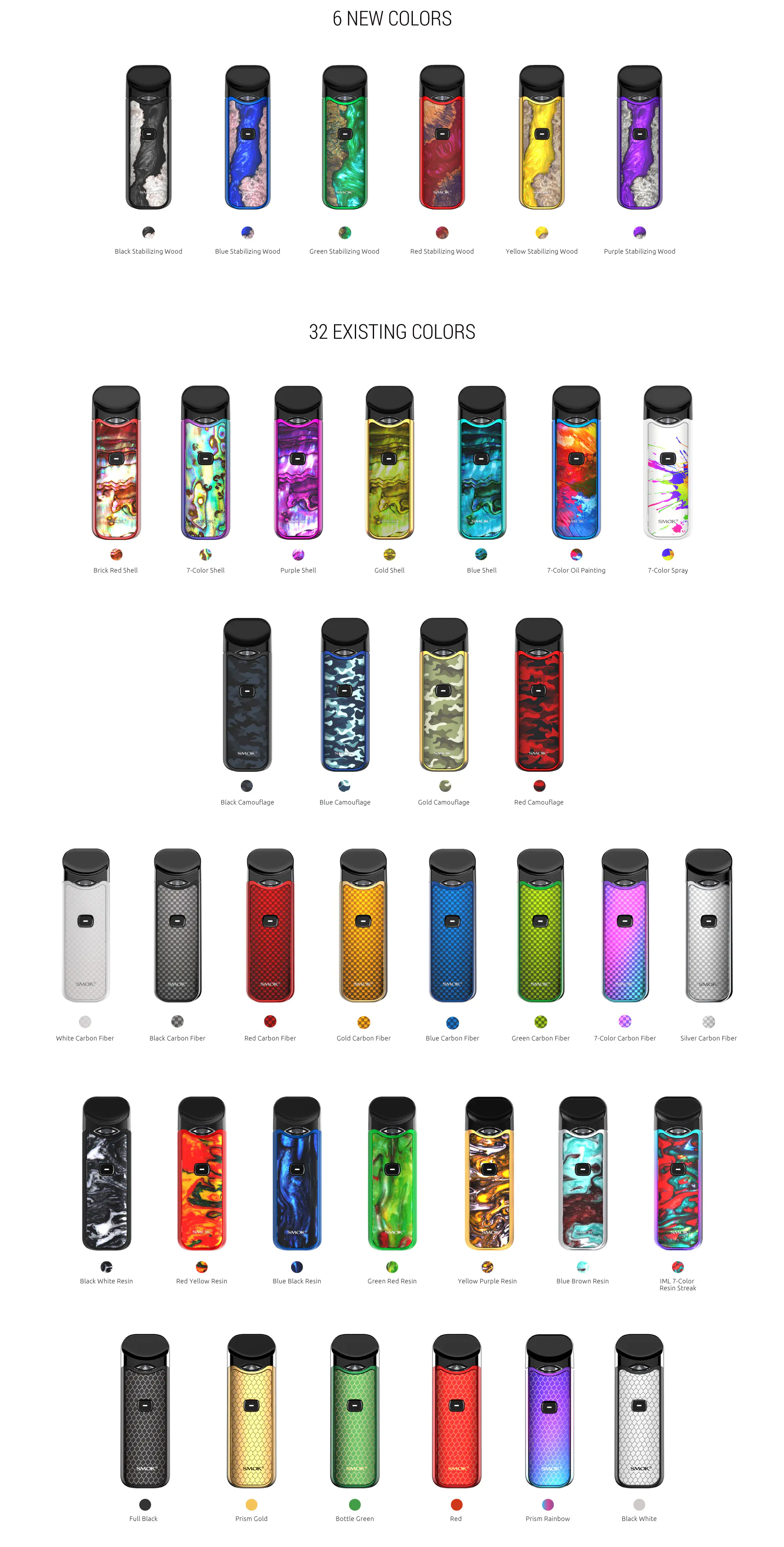 THE KIT INCLUDES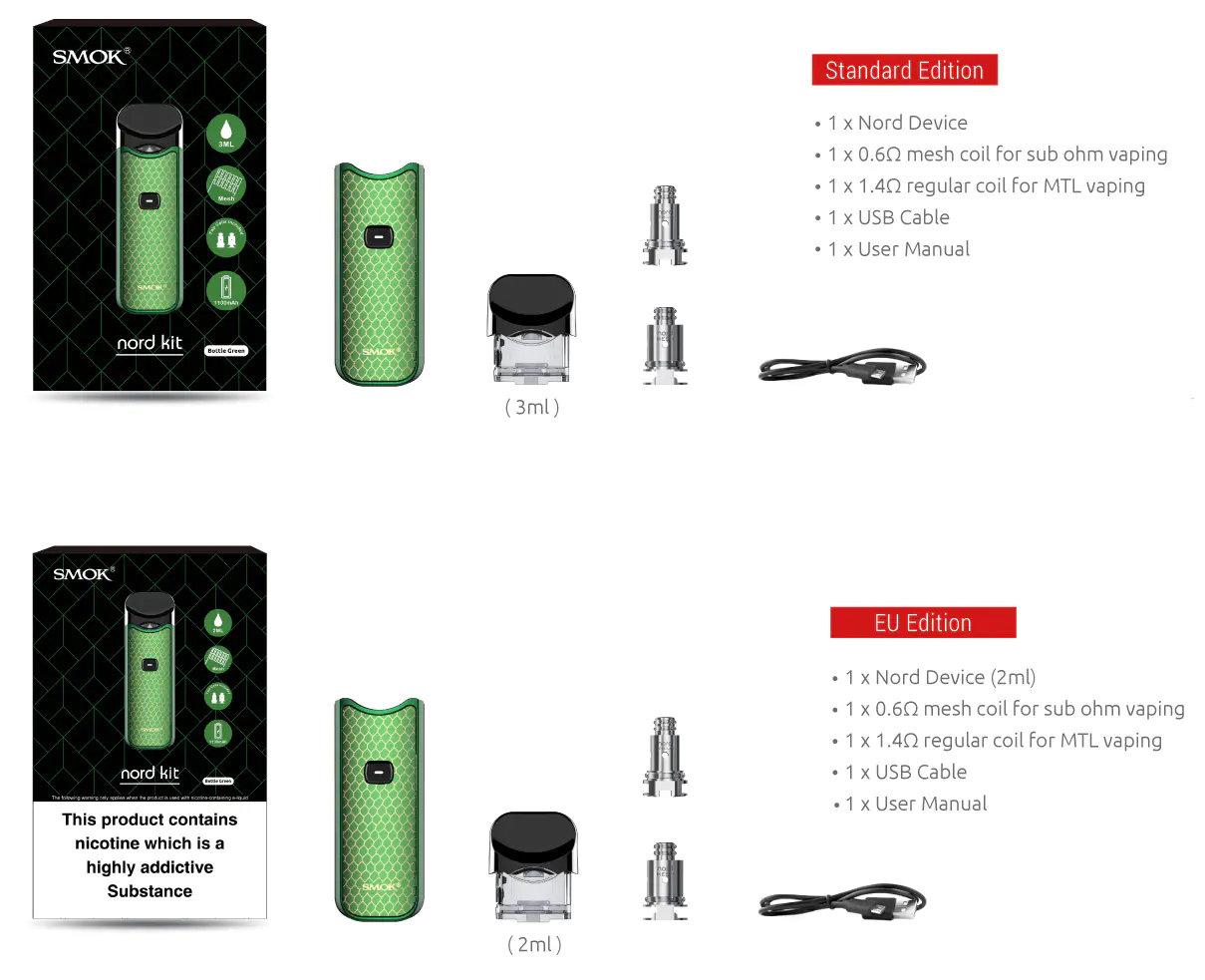 EXCELLENT DESIGN
Nord is a distinctive pod system device, it is a button-triggered one with large battery capacity,
and it has cobra covered at main body to offer an exquisite and wild look. Whatever in appearance or function, this one won't let you down.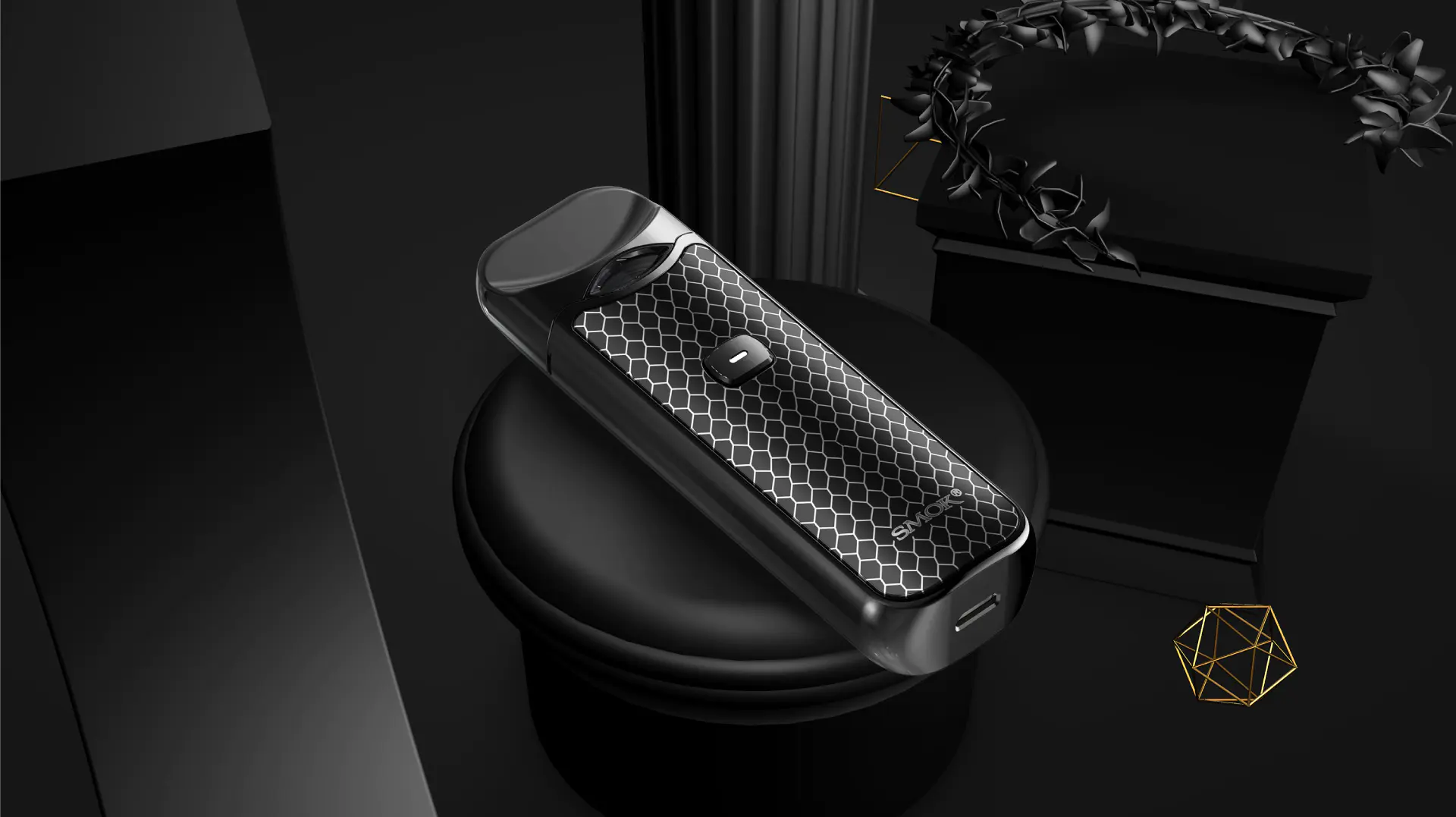 SPECIFICATIONS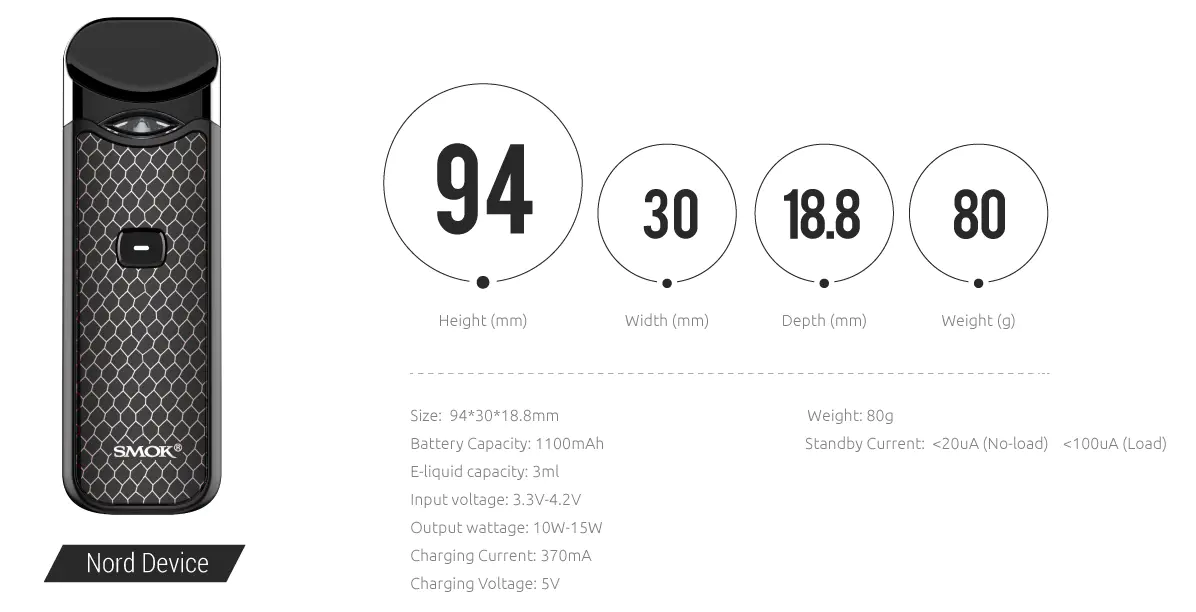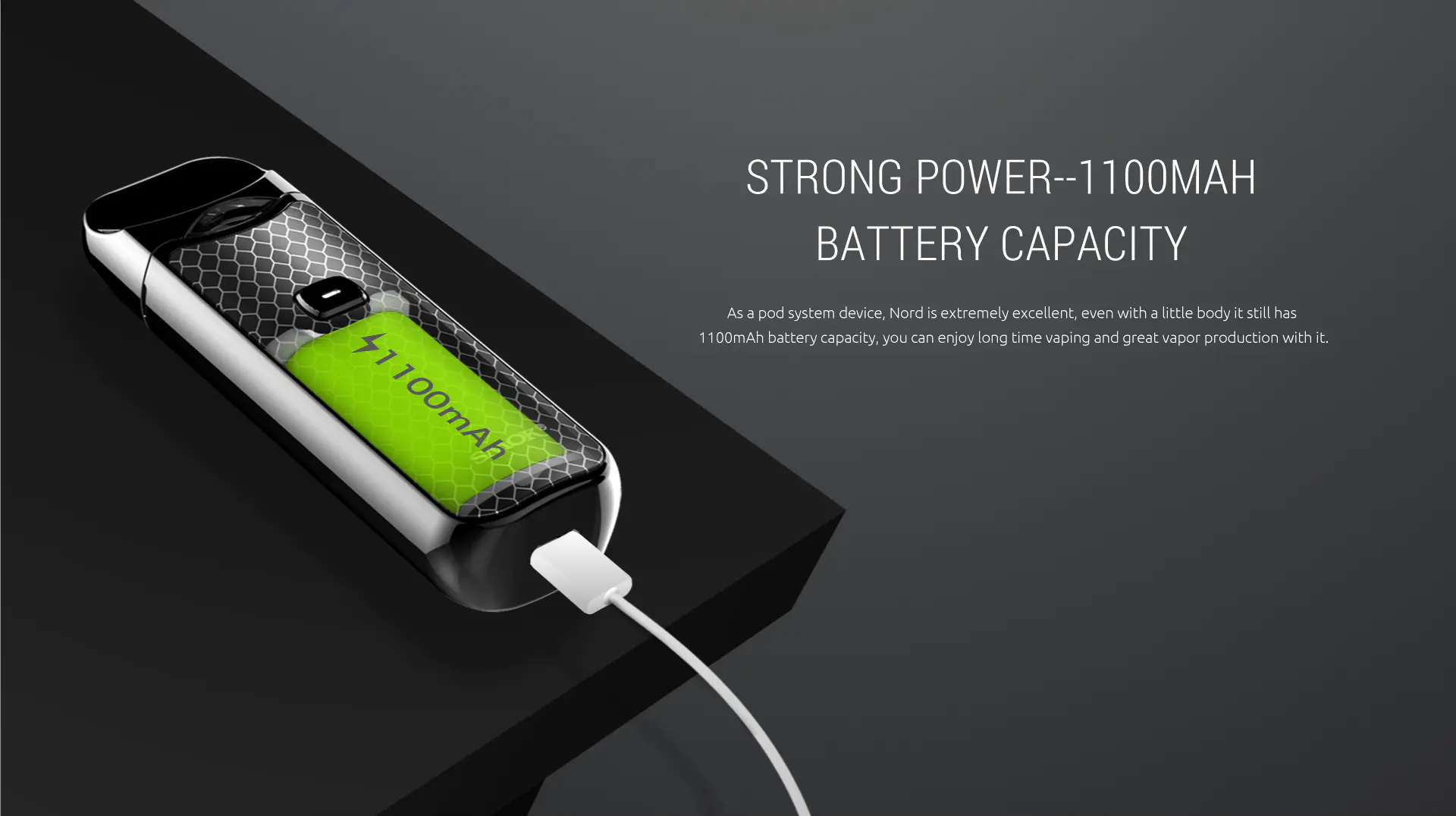 FAMILIAR OPERATIONS
Different with normal pod system devices, Nord is a button-triggered one,
you need to fast press the button five times to power on the device and long press the button to vape. Same operations with box mods.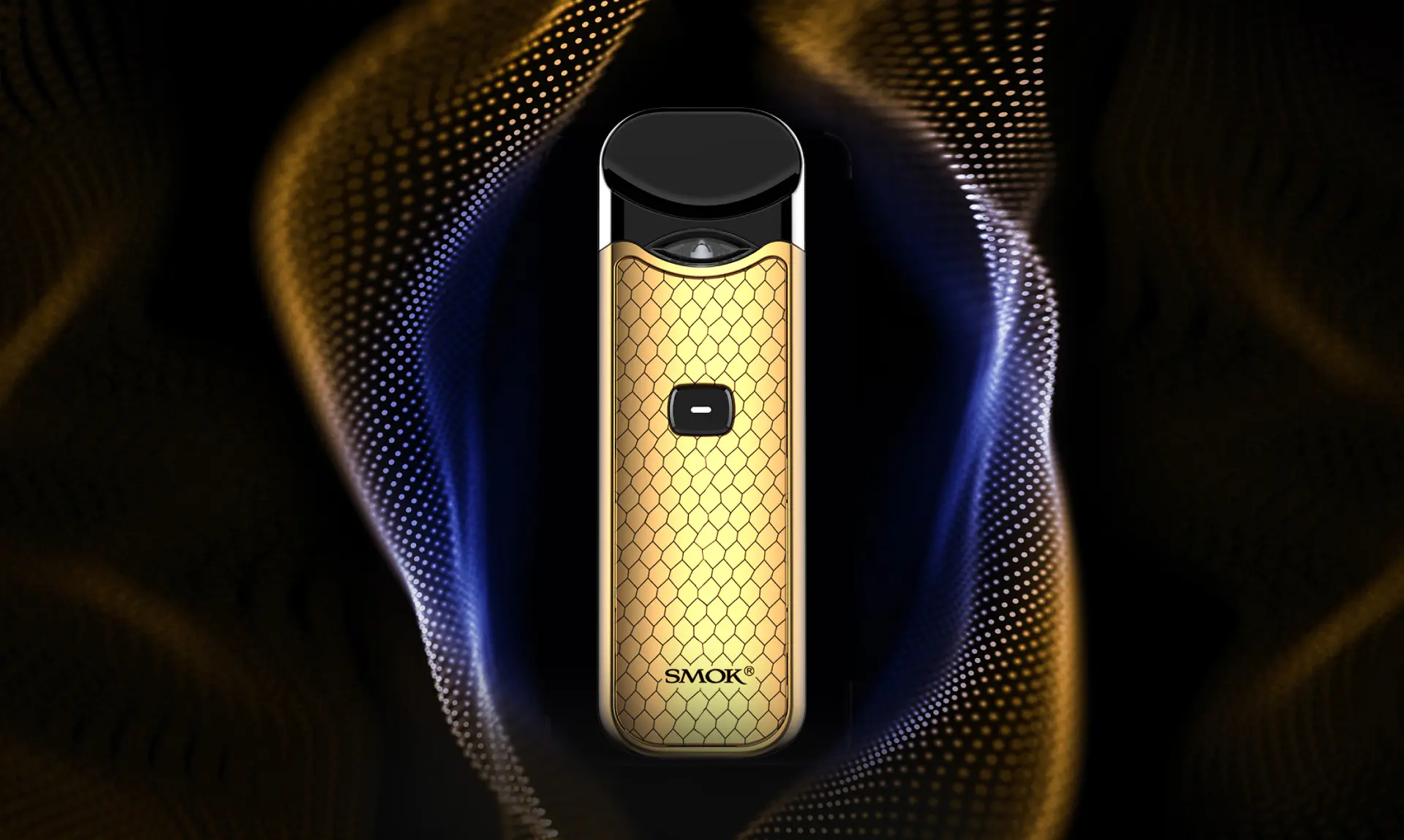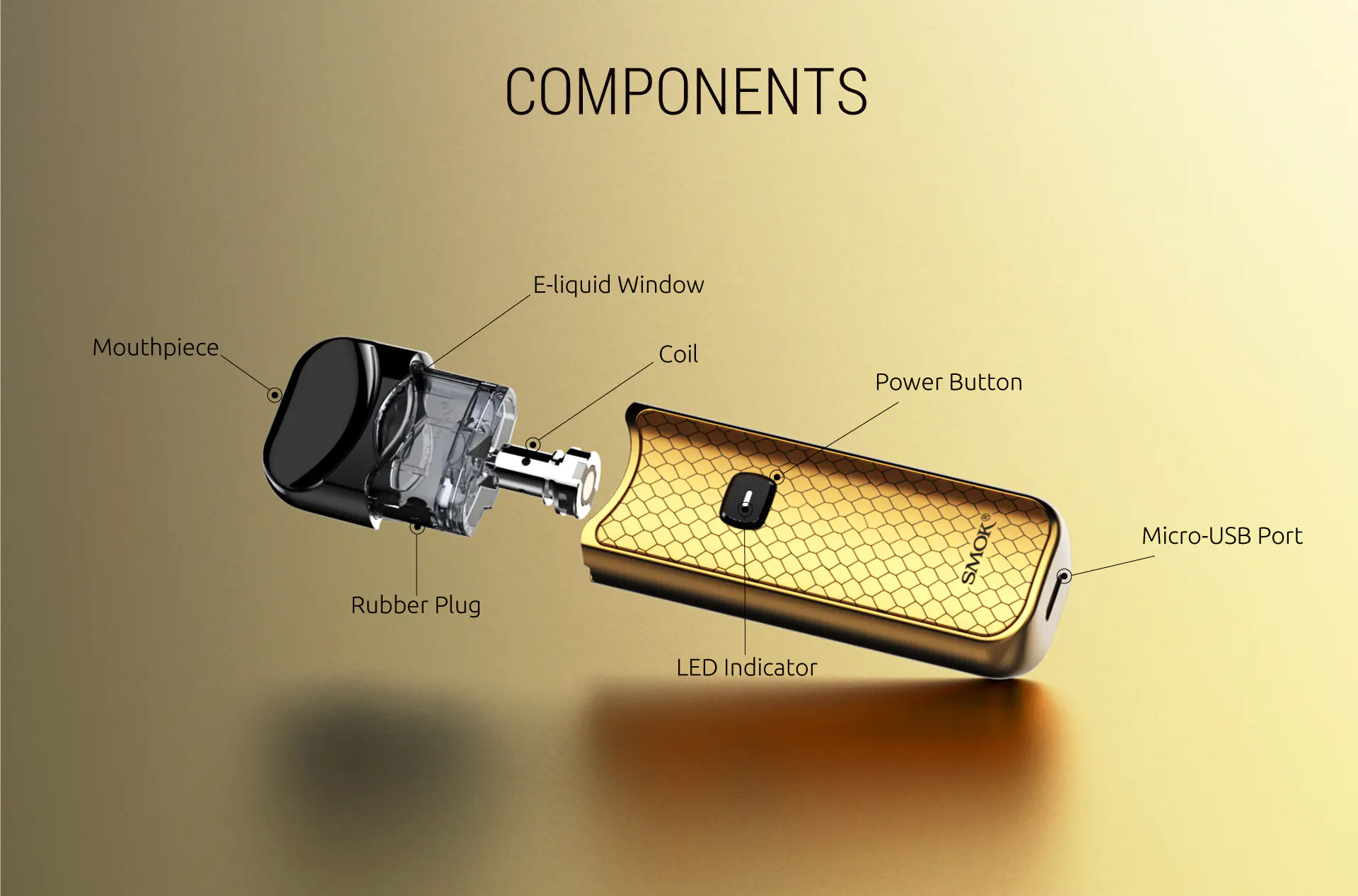 IMPROVED MOUTHPIECE
Nord's mouthpiece continues the duck-billed design, but it also has a great improvement,
with a lip curve on it, this mouthpiece could perfectly fit your mouth and offer better user experience.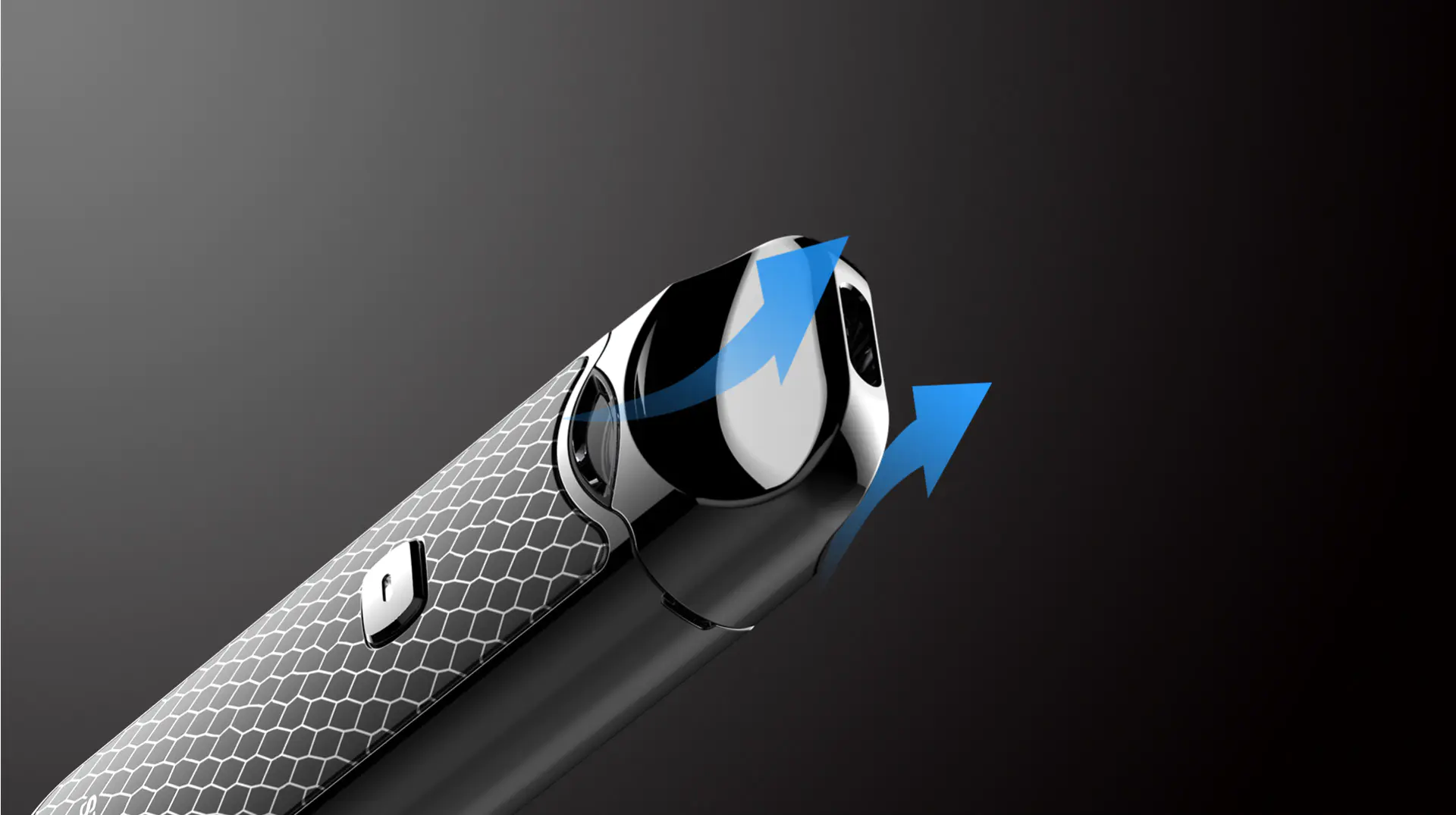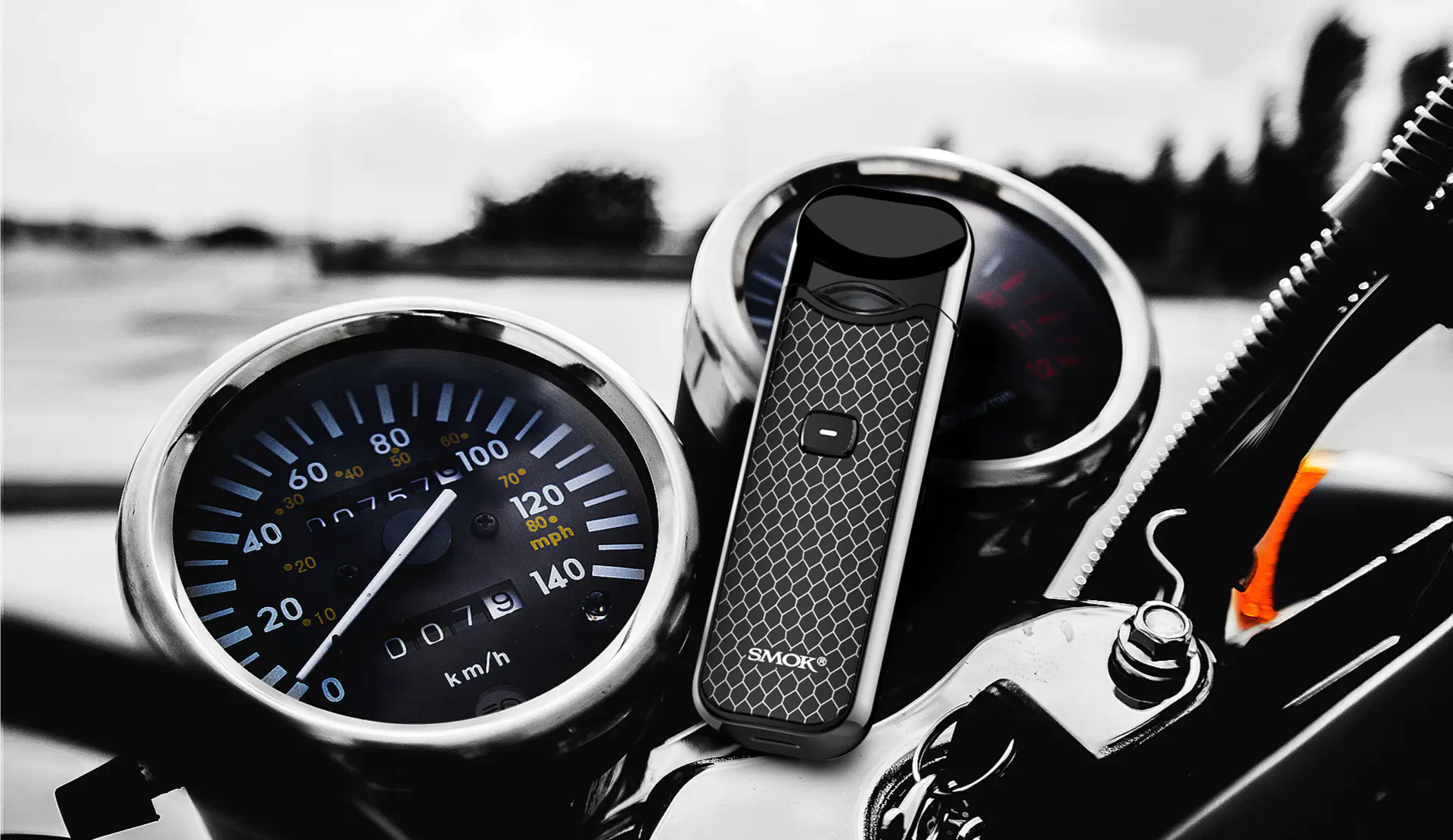 PORTABLE SIZE
Nord has a size of 94*30*18.8mm, which make it an easy thing to put this device in bags or pockets. Wherever you go, Nord can be a good company.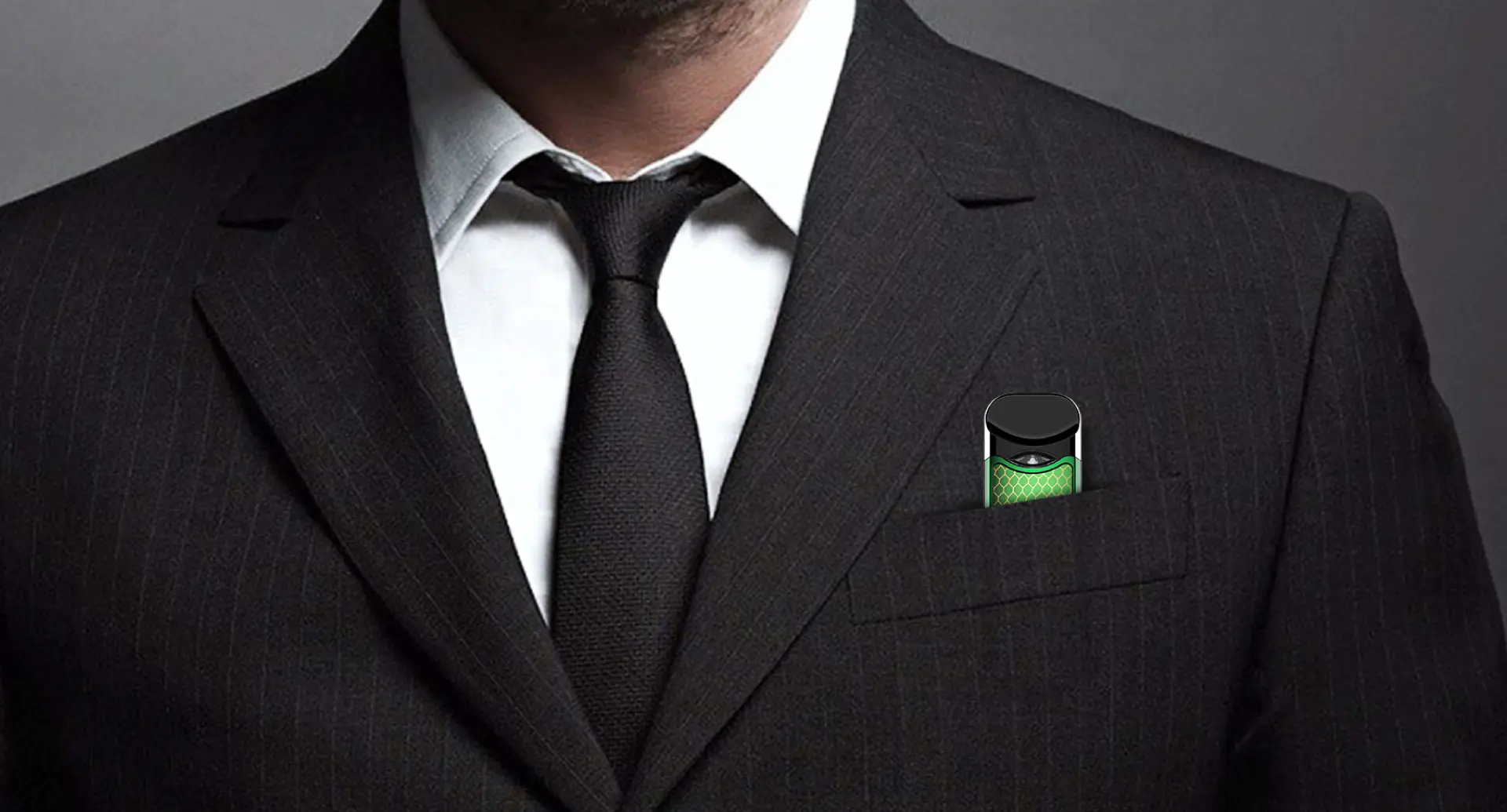 MULTIPLE COIL CHOICES
In this kit, there are two coils included: Nord 0.6Ω mesh coil and 1.4Ω regular coil. The 0.6Ω mesh coil is specially
designed for sub ohm vaping, it has a large mesh inside, with which you can get faster heating process and massive
vapor clouds; and the 1.4Ω regular coil is designed for MTL vaping, you can enjoy throat hit with it.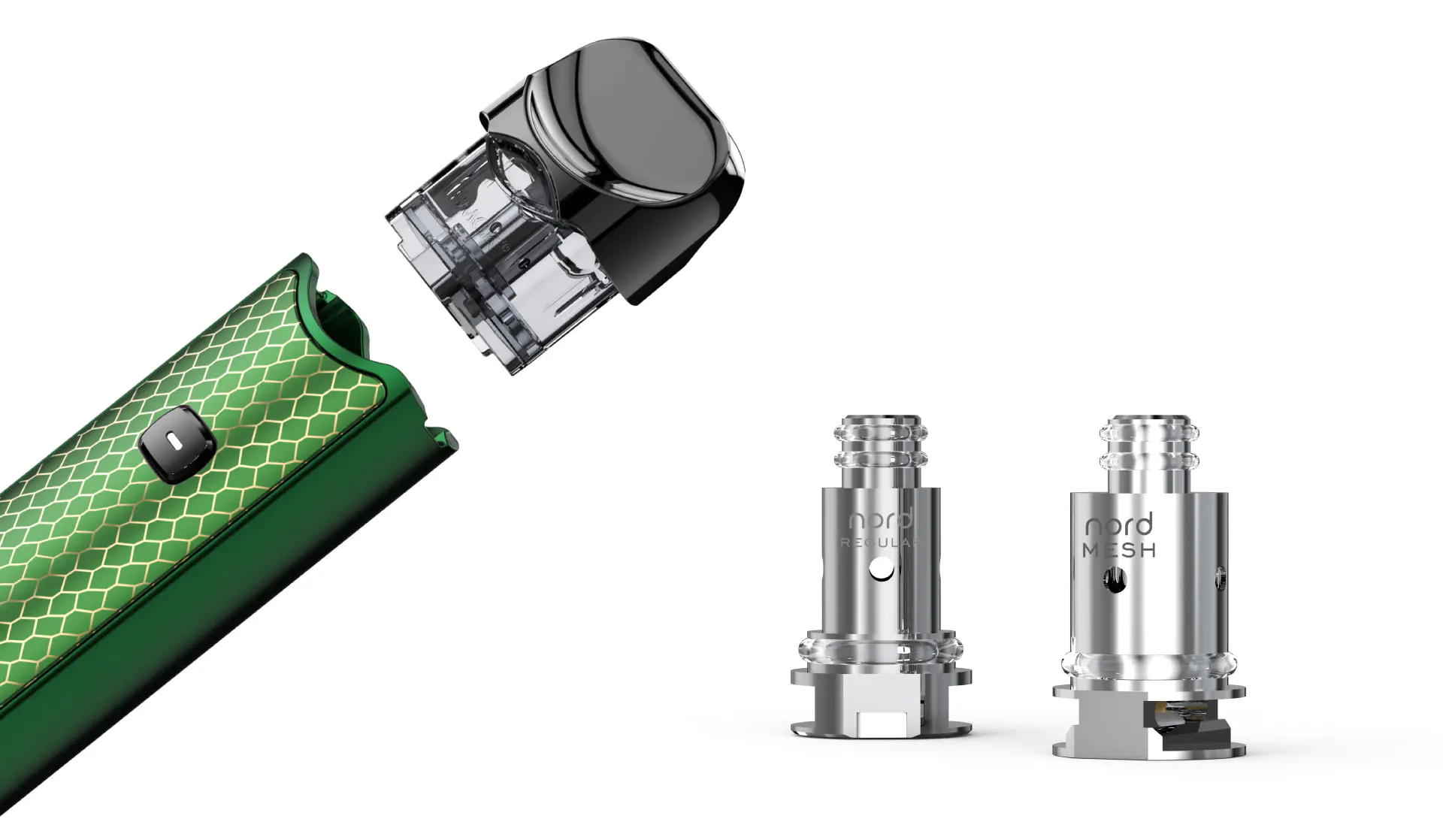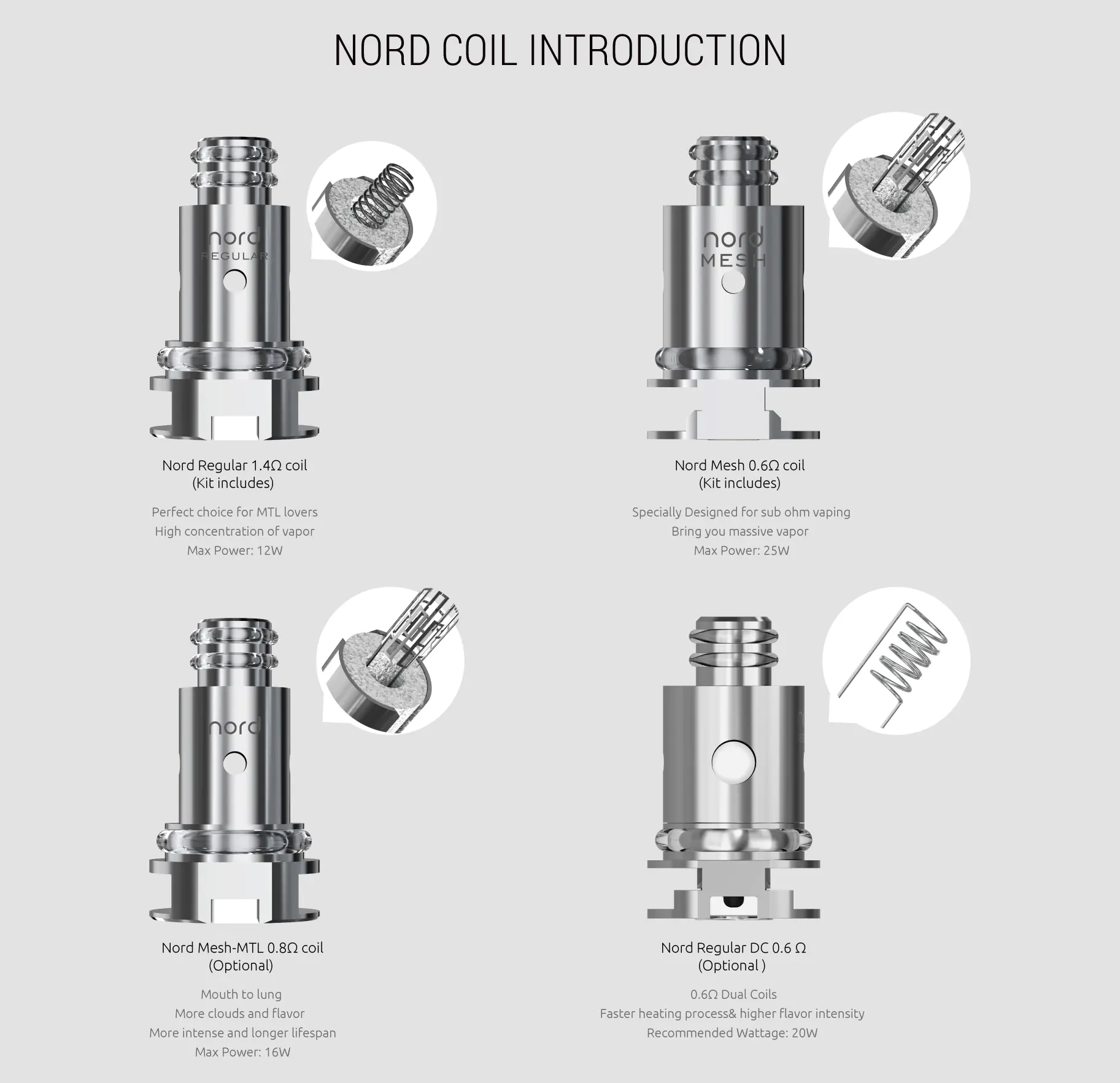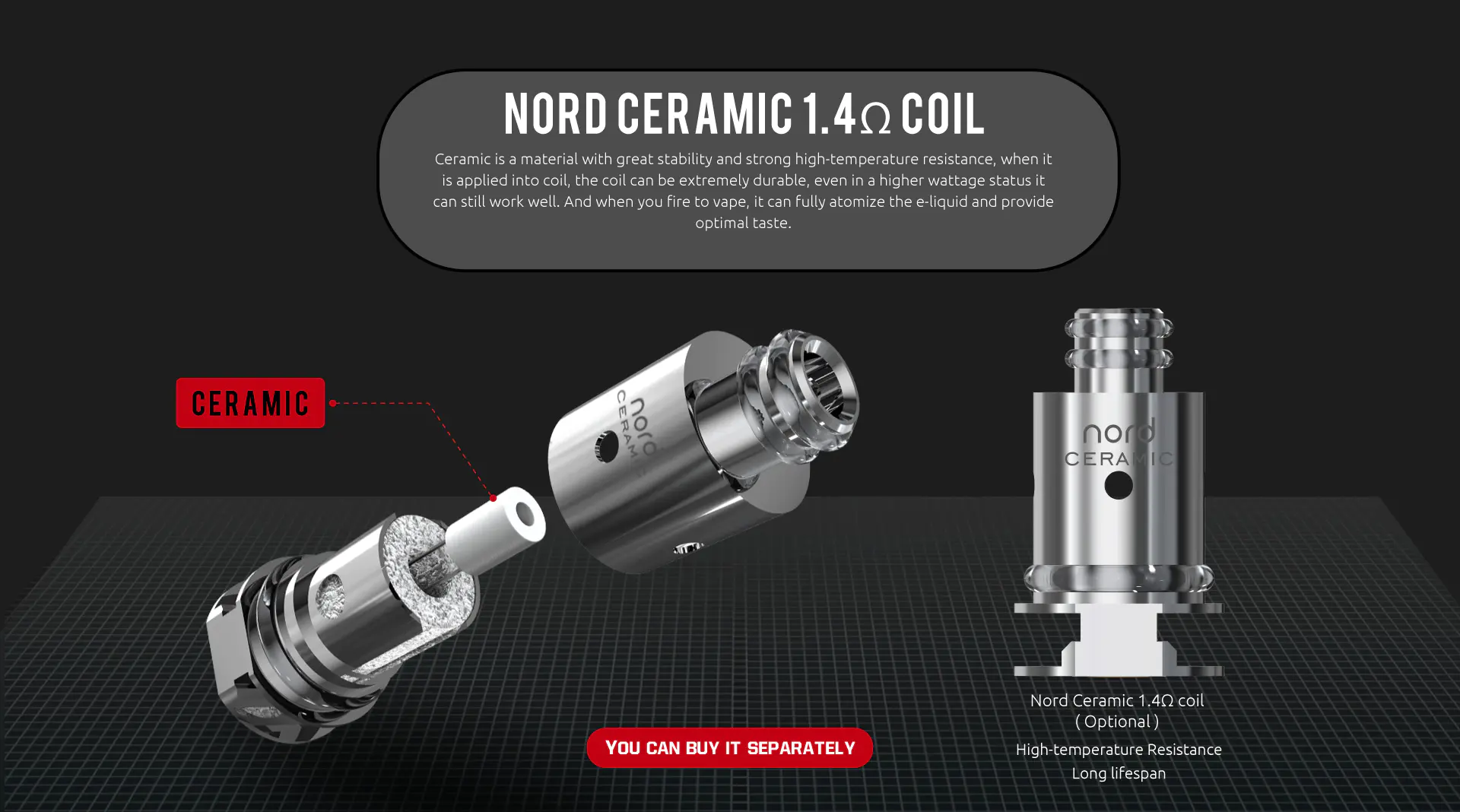 INTELLIGENT BATTERY LIFE INDICATOR
There's a LED light on the button, press it twice then red, orange or green light will be on.
Red light will on when battery power is lower than 30%; orange light will on when power is between 30% to 70%; and green light will
on when power is between 70% to 100%. According to the different light colours you can clearly know the device's battery conditions.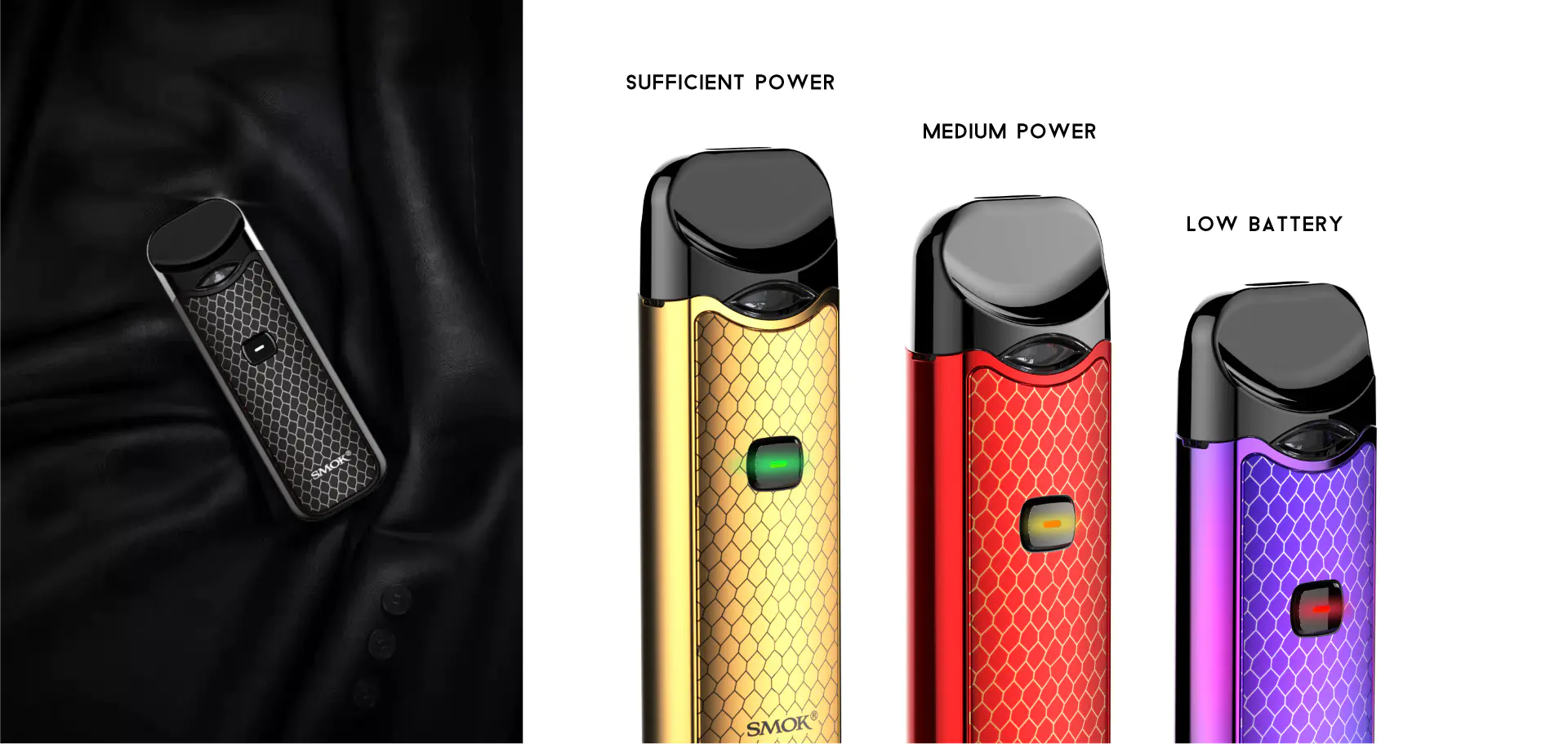 MULTIPLE PROTECTIONS
NORD provides multiple types of protections to avoid potential risks.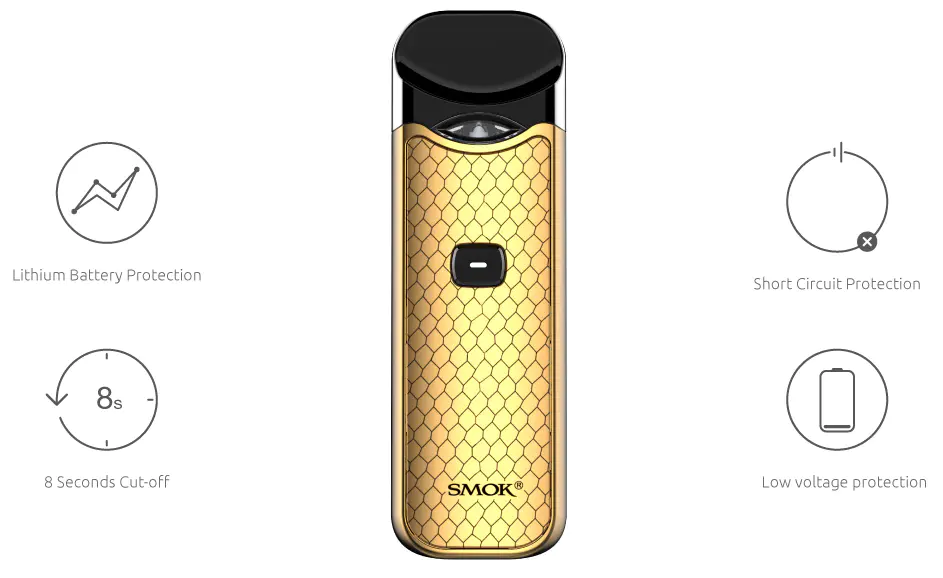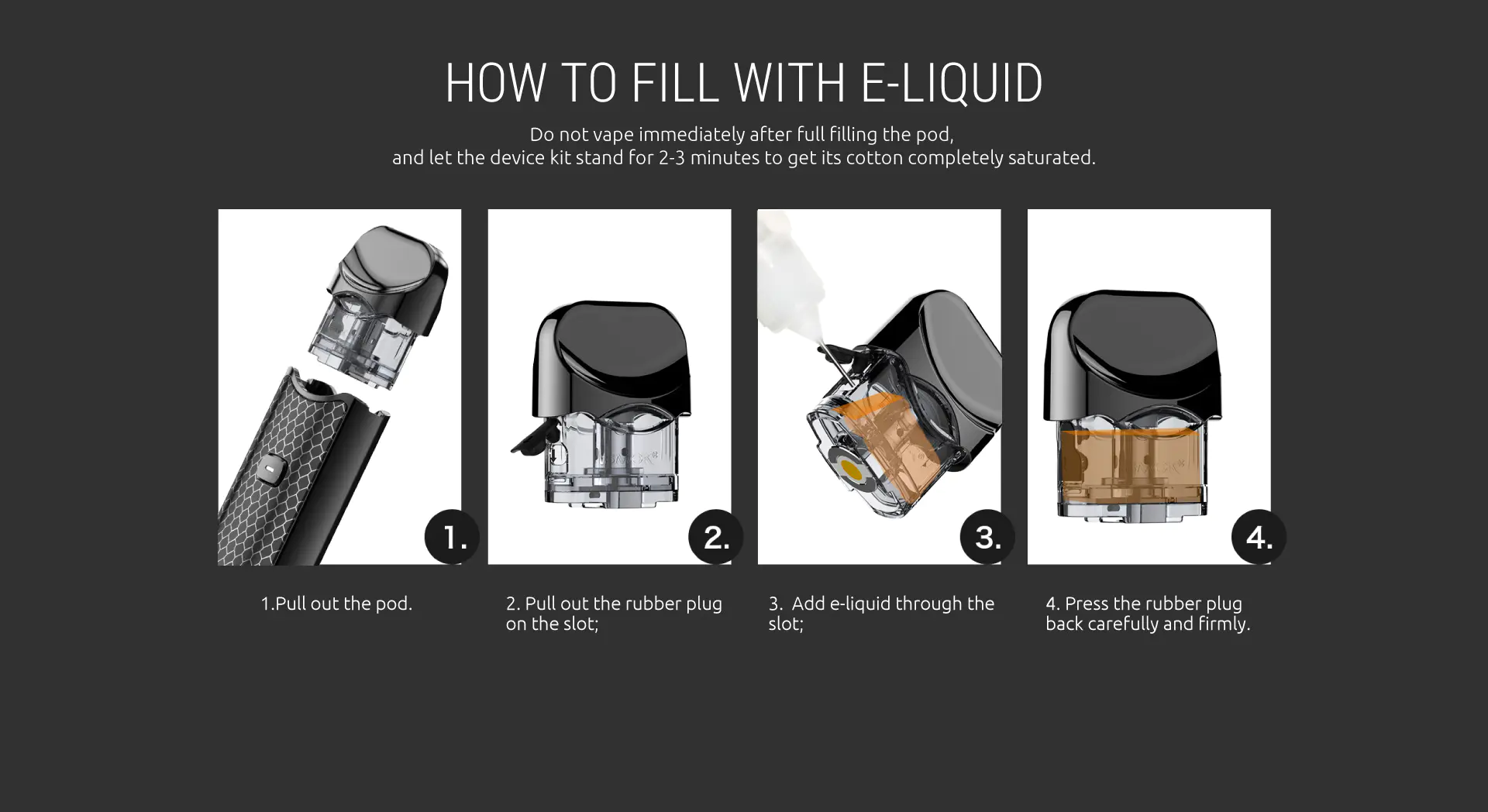 Anti-counterfeit Technology Designed to Combat Fakes
The laser marking technology Nord adopts is extremely sophisticated which employs
the ultra-high precision wafer-level laser technology of more than 80,000 DPI. By combining with the optical zoom imaging technique,
it can provide the highest level of anti-counterfeit security. What's more, the identification is so simple and easy-to-perform
that consumers can immediately tell the genuine from the fake.

SMOK Nord Pod Kit – £10.00