Uwell Valyrian 3 200W Mod Kit
Dragon scale pattern gives VALYRIAN III an elegant look. The leather and steel combination brings an excellent grip. Vapers who love the past VALYRIAN series and dragon stories will be attracted by the new one. Two modes are available – POW and TCR. The LED indicator shows in orange under POW mode and blue under TCR mode. POW mode works for every vaper, and the TCR mode is great for experienced vapers.
For experienced vapers, they will be astounded by its excellence. 5-200W output is powered by two 18650 batteries. More stable performance and lightning-fast firing speed are provided by VALYRIAN III. VALYRIAN III mod automatically detects atomizer
resistance. Vapers can adjust the power according to the resistance shown on the 0.96-inch colour screen. VALYRIAN III kit provides two coils, 0.32ohm and 0.14ohm. It is also compatible with VALYRIAN II's 0.15ohm and 0.16ohm coils.
Great for people who like a ton of airflow. The updated UWELL PRO-FOCS Flavour Testing Technology provides vapers with the ultimate vaping experience. It completely restores the e-liquid flavour. It's a flavour beast. Uwell's patented self-cleaning technology mitigates e-liquid leakage significantly. No need to clean your tank every day. Flip-open cap design makes refilling easy. To vapers, it's very convenient.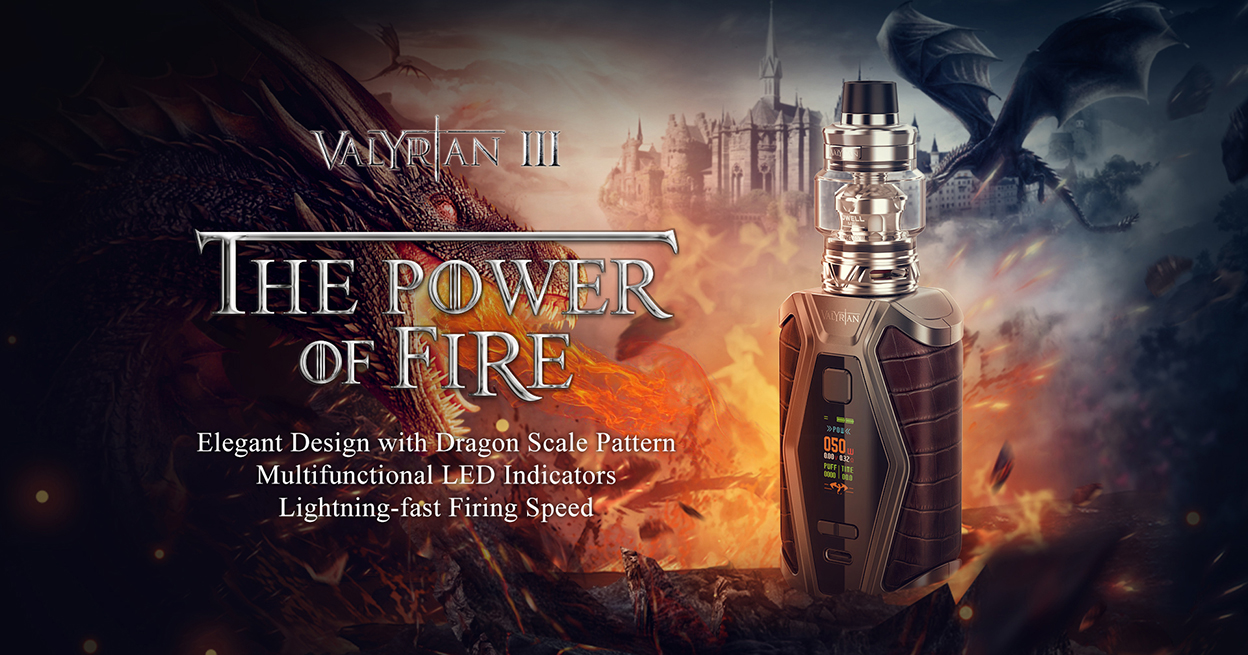 Features:
1. Elegant design with dragon scale pattern
2. Updated PRO-FOCS technology
3. More coils, more enjoyments
4. Lightning-fast firing speed
5. Resistance detection
6. Flip cap design
7. Patented self-cleaning technology
8. Multifunctional LED indicators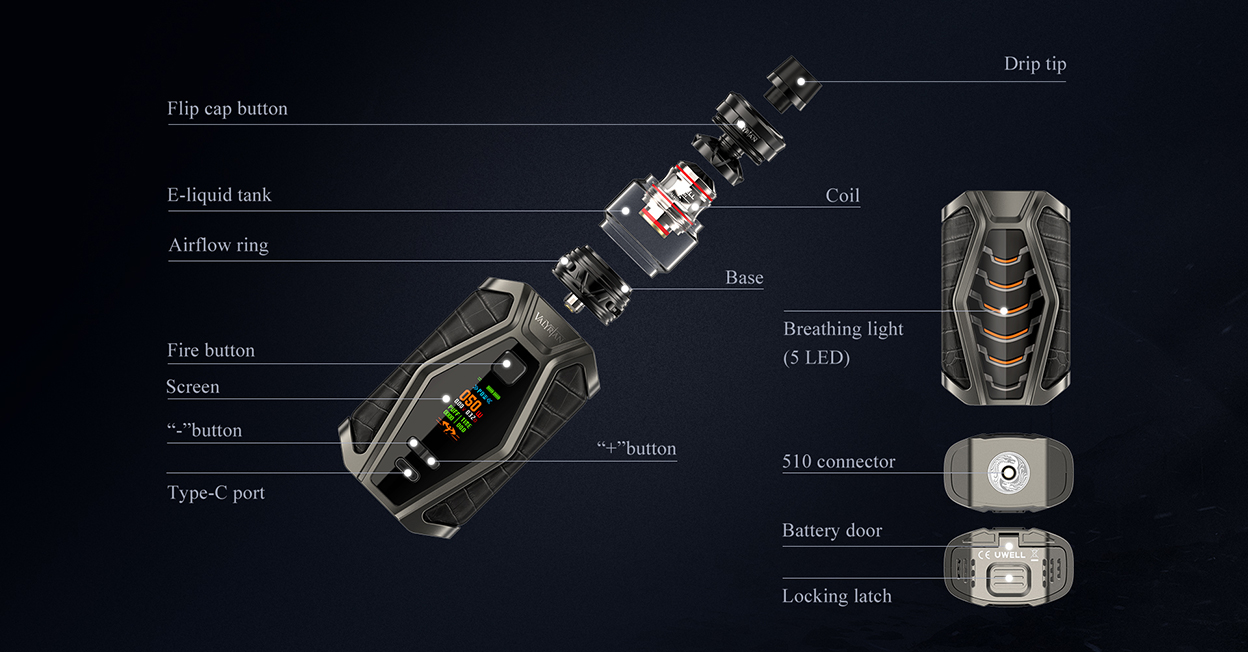 VALYRIAN III Mod:
Power Range: 5 W-200 W
Standby Current: < 100 uA
Voltage Range: 0.7 V-8.0 V
Material: Zinc Alloy, PC+ABS
Applicable Battery: 18650 cell
Size: 85.2 mm * 52 mm * 31.4 mm
Resistance Range: 0.1ohm-3ohm (VW); 0.1ohm-1 ohm(TC)
Temperature Range: 200F-600F/100C-315C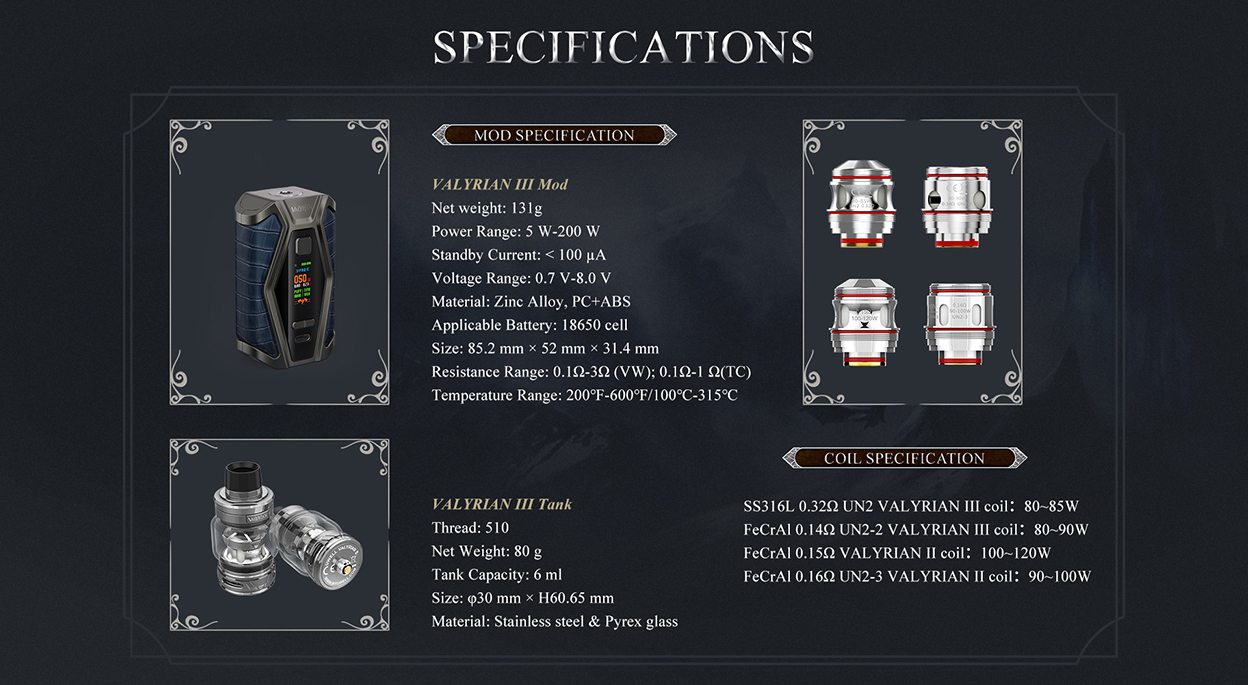 VALYRIAN III Tank:
Thread: 510
Tank Capacity: 6ml
Size: 30 mm * H60.65 mm
Material: Stainless steel & Pyrex glass
Brand: Uwell
Unit: 1 Set
Package: Gift Box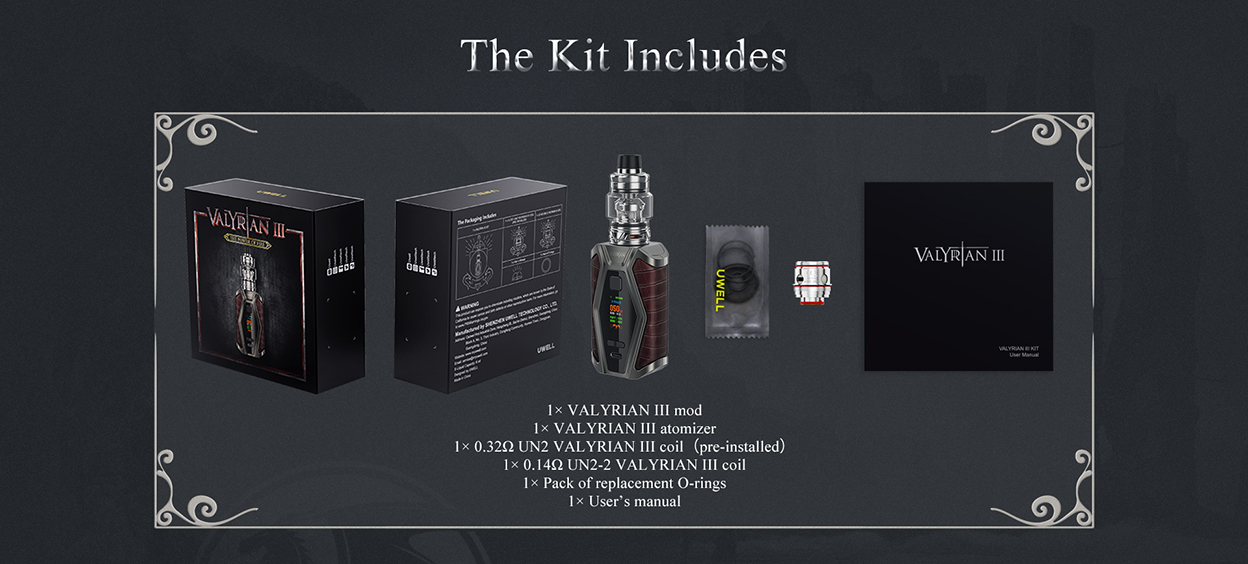 Each set contain:
1pc VALYRIAN III mod
1pc VALYRIAN III atomizer
1pc 0.32ohm UN2 VALYRIAN III coil (pre-installed)
1pc 0.14ohm UN2-2 VALYRIAN III coil
1pc Pack of replacement O-rings
1pc User's manual

Uwell Valyrian 3 200W Mod Kit – £56.28